Durham School Services' bus donation fills transportation gap for Junior Recruits youth program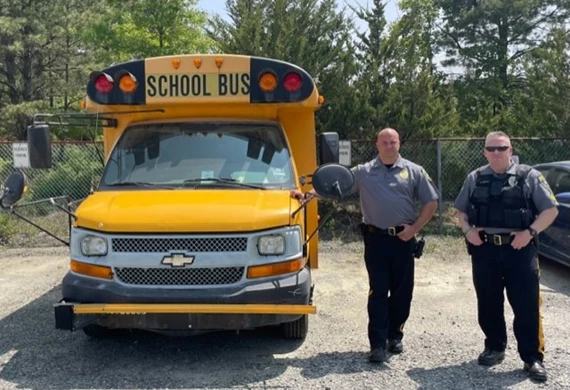 Durham School Services has donated a mini school bus to the Little Egg Harbor (LEH) Police Junior Recruits to use for their youth program events. The program was created for community youth interested in becoming involved in the military or law enforcement. The children in the program are highly involved in their community and often volunteer at food pantries, community clean-ups, and local school projects. In addition to being used for the youth program, the bus will also be used for safety and emergency transportation.
This donation was made as part of Durham School Services' company-wide Partners Beyond the Bus community outreach program. These bus donations also help repurpose retired, non-electric vehicles from DSS' fleets, further contributing to DSS' transition to alternative fuel-powered and zero-emission buses. Durham School Services plans on transitioning to an all-zero-emission fleet by 2035.
"This small bus donation is a tremendous asset to our youth program because transportation for some of our members is a constant issue," Sean Crotty, Sergeant and Community Relations Officer, LEH Police Department. "So, whether it's a community event that we are assisting with or our field trips, the donated bus is vital for us. We are also associated with our police department, so the bus could also be utilized during state of emergencies and critical incidents. We are very appreciative to Durham for stepping up without hesitation when we reached out for this donation. In addition to the bus donation from Durham School Services, we would also like to thank Streamline Autobody for donating paint to repaint the bus and Farros Tees for donating T-shirts for us to sell at our Cops & Rodders Car Show to help raise money for new bus decals. This has truly been a group community effort, and I am grateful for everyone's support."
"Our team and Company strongly believe in giving back and helping the communities in which we serve," said LEH General Manager Patty Manzoni. "We saw our previous bus donation's positive impact on the community, so when Sergeant Crotty reached out inquiring about a possible donation, we agreed right away. It's for a great cause, and Sergeant Crotty is a great mentor to those kids. It's the least we can do to help foster volunteerism and build positive experiences for these kids."