Key performance indicators
Measuring our progress, both financially and operationally
Underlying Operating Profit (£m)
£197.3m
2021: £87.0m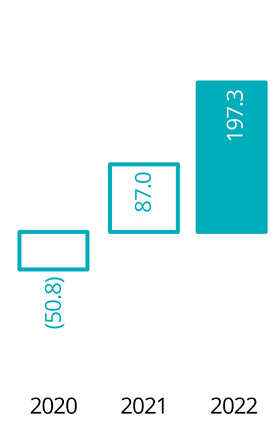 Relevance to strategy
A key measure of the overall performance of the business.
We are focused on driving growth in operating profit in order to generate higher and sustainable returns for our shareholders and providing the platform for further growth for all our stakeholders including our employees, our customers and our partners.
Free cash flow (£m)
£160.5m
2020: £123.4m
Relevance to Strategy
Strong cash generation provides the funding to invest in initiatives to drive our strategy.
This focus on strong cash generation ensures that we are running the business efficiently, converting profit to cash to enable investment into the business; returns to shareholders; achieve our leverage targets and provide the platform for further growth for all our stakeholders.
Return on capital employed (%)
7.7%
2021: 3.4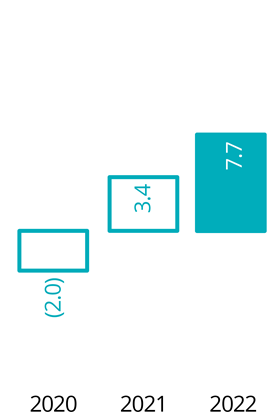 Relevance to Strategy
Demonstrates how efficiently the Group is deploying its capital resources to generate operating profit.
A focus on ROCE ensures that we maintain a disciplined approach to capital investment and continue to invest in those areas in which we deliver the best returns. This ensures that we maximise returns to shareholders for the capital they invest.
Safety - Fatalities and Weighted Injuries
1.638
2021: 2.847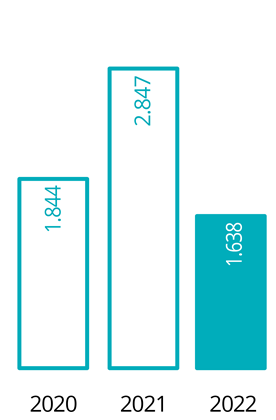 Relevance to strategy
Safety is of paramount importance to a public transport operator and being the 'safest' is one of the five Evolve outcomes.
Safety is at the heart of our values and is our priority for both our customers and our employees.
High safety standards also help to drive sustainable growth through customer loyalty and new business wins.
Passenger journeys
977.0m
2021: 791.8m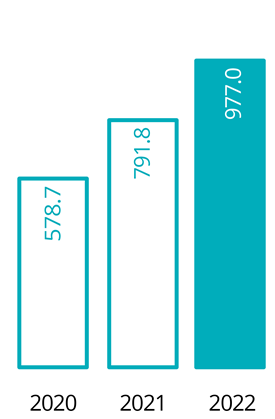 Relevance to Strategy
Growth in passenger journeys is a leading indicator for customer satisfaction and hence growth, and modal shift from cars to public transport. Having the 'most satisfied customers' is a key aim of the Evolve strategy.
National Express is targeting increased passenger ridership as a longer-term driver of sustainable value for both the business and the environment, with public transport a key solution to lowering carbon emissions and easing travel congestion.
GHG emmissions*
34.37
2021: 25.34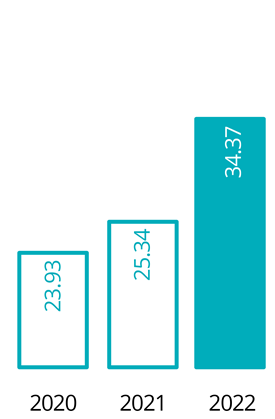 Relevance to Strategy
Reducing the environmental impact of transport is core to our purpose and links to the evolve strategy outcome: being the environmental leader.
Per passenger, bus and coach travel is significantly less polluting than cars and, as such, modal shift is the single most important thing we can do to drive the climate change and clean air agendas. We are also committed to making public transport itself greener. We have adopted targets through to 2025 that are 'science based' and aligned with limiting global warming in line with the Paris Agreement.
On-time Performance
91.1%
2021: 93.9%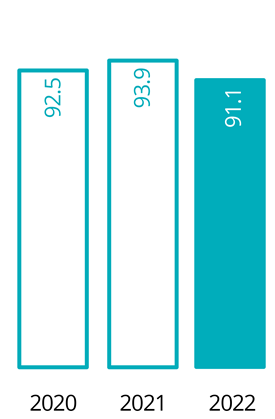 Relevance to strategy
Improving OTP is a key measure of reliability, driving customer retention and the ability to win new contracts. It links directly to the Evolve strategy outcome: most reliable. Our reputation for reliability, whether it be for fare paying passengers on our buses or with school boards and local passenger transport authorities, is vital to drive growth across the each of our businesses.
OTP is also a driver for achieving operating efficiencies across the Group, helping to improve financial returns.
Employer Net Promoter Score (eNPS)
+7
2021: N/A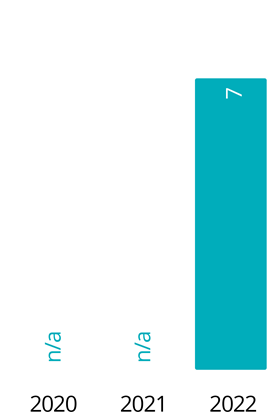 Relevance to Strategy
The eNPS score is a key measure of employee satisfaction and engagement. Tracking eNPS allows us to identify areas of strength and also where we can improve in order to retain and grow our talent in the business. It links directly to our evolve strategy outcome: employer of choice.
A rapidly changing market
Our Belief: quality mass transit is fundamental to a safe, green and prosperous future
Financial overview
Group Income Statement, Group Balance Sheet, Group Cash Flow Statement, Five Year Summary.
Investment case
Driving our business forward in sustainable and growing markets