Creating long-term value for stakeholders and wider society
The resources we rely upon

Our Resources

Vehicles
We operate around 28,000 vehicles of varying sizes, from taxis and minibuses, to double decker buses and long haul coaches. The fleet is predominantly diesel propulsion currently, but we also operate alternative fuel technologies such as propane, electric and hydrogen. We have well-developed plans to transition the whole fleet to zero emission vehicles and are making strong progress.

Sites
Our services operate from hundreds of depots across 11 countries and more than 50 key cities. These depots are where we bring our colleagues together, deliver training and embed our safety practices. We continually review our depots to optimise processes and to adapt to new technologies such as electric vehicle charging.

Financial
National Express has a track record of consistently generating cash flow from its operations, which is then used to maintain a strong balance sheet, invest for growth and provide returns to shareholders.

Colleagues
We employ over 46,000 colleagues across our businesses around the world, the majority of whom are drivers. They deliver excellent customer service, exemplary levels of safety, and bring extensive technical skills and expertise in areas such as operational excellence, route optimisation and vehicle technology.

Intellectual property
We continually develop and refine critical intellectual property, which allows us to design, mobilise and operate transport solutions that deliver on our Evolve outcomes.

Our Relationships
We have extensive, long-term relationships at local and national levels of government and with city or regional transport authorities. We engage collaboratively to find solutions, and improvements, to transport needs, and we believe in maintaining strong relationships with the communities in which we operate. We invest in longterm, collaborative relationships with suppliers; working together to develop innovative solutions and improvements to safety, reliability, customer satisfaction and environmental impact.

How we create value

What we do – our customer propositions
We have a range of products that enable us to create solutions for our customers across each of our five Evolve customer propositions.
 

🠞 

Our key differentiators


🠞





Our processes and systems




🠝 

  🠟


Our partnerships



🠝 

 

🠟



Our knowledge


🠜






🠝

 
Our global diversified contract models
Around 70% of the Group's revenue is generated from contracts. The remaining circa 30% of revenue comes from individual passengers directly purchasing tickets from the Group without any contractual arrangement in place.

 

🠜 

The value we create

Value generated for stakeholders

Colleagues
We provide attractive employment opportunities, paying competitive wage and salary rates, and creating safe, enjoyable and inclusive working environments.

Passengers and customers
We provide best-in-class, value-formoney services that provide a compelling alternative to the private car. Our services enable passengers to connect with family, friends, and workplaces, and facilitate access to healthcare and education.

Suppliers
We support suppliers through the procurement of goods and services. We work with a wide range of suppliers from individuals to large businesses. We develop partnerships with key suppliers, working collaboratively to develop new innovations in, for example, safety or vehicle technology.

Equity and debt investors
We aim to provide attractive total shareholder returns. The Board has recommended the reinstatement of the dividend in respect of the full year 2022. We have strong long-term relationships with lenders, utilising a variety of sources of funding.

Communities
Our services facilitate social mobility and promote economic activity; connecting people to jobs, education, healthcare and leisure. Our services can be critical for people without access to a car and we provide transport for vulnerable people. By encouraging modal shift from private car to public transport, we play an important role in improving air quality in our communities.

Governments
We have strong relationships at local and national levels of government, which enables us to help shape policies regarding public transportation. We are also able to bring transport solutions to local government bodies and transport authorities; transforming the services in their areas. The Group also generates significant tax contributions to public finances across employee, sales, corporation, property and other taxes.

The environment
Public transport offers a more environmentally friendly mode of transport than the private car. One bus takes up to 70 cars off the road. Furthermore, we are moving fast to transition our fleet to zero emission, further reducing pollution and improving air quality.
benefits to Mobico group
Sustainable long-term growth
Our strong relationships with customers, suppliers and government bodies, combined with experienced colleagues, in-depth knowledge and considerable scale in terms of resources and geographical spread, enable us to drive sustainable long-term growth. We take a long-term view to the planning and utilisation of our resources, and to the organic and inorganic opportunities for growth.
Strong financial returns
We utilise our resources and relationships to achieve strong financial returns. By growing revenue, converting it to profit and delivering cash flow, we provide the ability to invest for growth, maintain a strong balance sheet and provide returns to shareholders. In the 10 years prior to the pandemic, National Express delivered a revenue and profit compound annual growth rate of 6% and 7% respectively.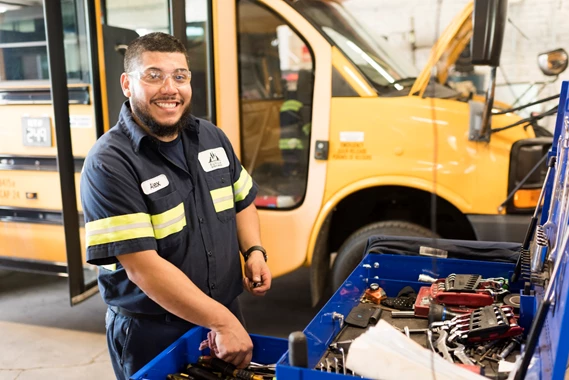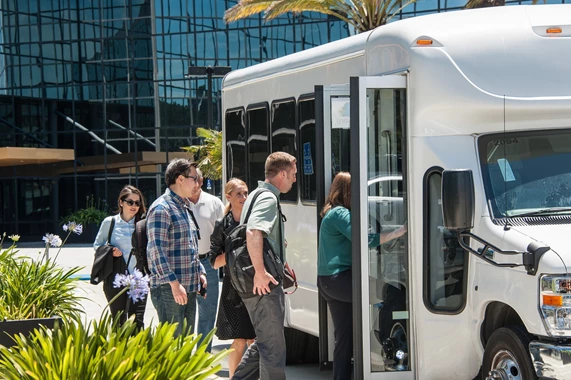 benefits to society
Social mobility
Our services connect people to each other and to places of work, education and healthcare.
Reduced pollution and improved air quality
Many of our existing diesel vehicles already emit lower emissions than the average family car. By driving modal shift from private car to public transport, as well as transitioning our fleet to zero emission vehicles, we can make a significant impact on reducing pollution and improving air quality.