Our key differentiators are our processes and systems, knowledge and partnerships
Enabling us to design, mobilise and operate safe, reliable transport networks as a trusted partner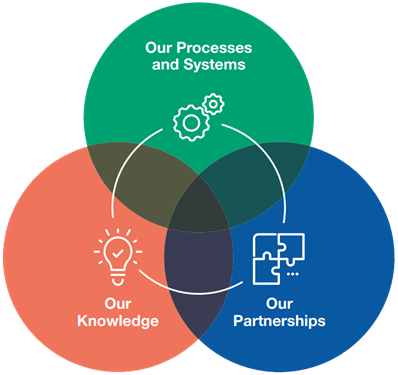 Our Processes and Systems
We have strong processes and systems in place across each of our businesses in order to achieve our five outcomes identified within the Evolve strategy: to be the most reliable; the safest; the environmental leader; have the most satisfied customers; and be the employer of choice. These processes are underpinned by standard operating procedures and global policies applied across each business.
The application of our processes and systems enables us to deliver consistency and operating efficiencies, whilst performance management and monitoring of KPIs identifies focus areas to drive continuous improvement, delivering superior outcomes as well as helping to drive lower costs.
All our processes and systems are digitally enabled, driving further improvements in operational and financial KPIs.
Our Knowledge
We hold market-leading positions in those markets where we choose to compete. Strong management teams across each of our businesses, using local knowledge whilst applying global best practice and expertise, enables us to both retain and win new business across the Group.
Our strength in network design and route scheduling supported by strong commercial capabilities in terms of marketing, pricing and revenue management are major competitive advantages, complemented by our leading brands.
We have a strong reputation for successful mobilisation of new contracts where we are both agile and flexible, widely recognised by local passenger transport authorities in each of our markets. Key areas of differentiation: 
Design: Network planning, timetabling, scheduling, fleet planning 
Operations: Safety, dispatch, monitoring and controls, maintenance and customer care 
Mobilisation: Recruitment, training, fleet procurement and specification, ZEV implementation
Our Partnerships
We put our customers at the heart of what we do in order to provide safe, reliable and great value mass transit services for them.
We have developed strong relationships with local public transport authorities, governments, school boards and corporate customers and work in partnership to deliver high quality services whilst at the same time providing solutions to enable customers to achieve their wider aims, which are designed to solve the challenges of congestion, carbon, clean air and inclusive social mobility.
By working in partnership with our customers, not only are we able to better understand their needs, but also through collaborative efforts, we are able to access available funding for promoting modal shift and for the transition to ZEVs.