National Express West Midlands invests record £150 million in 300 UK-made electric zero emission buses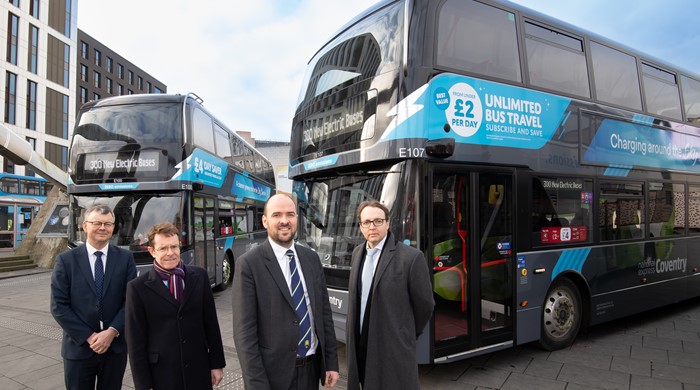 L-R: National Express UK CEO Tom Stables, Andy Street, Mayor of the West Midlands, Transport Minister Richard Holden and David Bradford, Managing Director, National Express West Midlands
National Express West Midlands is investing £150 million in 300 UK-made electric zero emission buses, for delivery by the end of December 2024. The buses will be deployed across the West Midlands.
This investment is part of National Express delivering on its commitment to have a completely zero emission bus fleet in the UK by 2030. Thanks to the original Government investment that kick started the transition to Zero Emission Buses (ZEB), the Birmingham-based bus operator is now in a position to acquire these buses. 
This will mean that over a third of the fleet will be zero emissions  - which is the highest proportion of any city region in the country. Each zero emission vehicle saves an average of 66 tonnes of carbon annually*, so this investment will save a total of nearly 20,000 tonnes from going out into the atmosphere every year.
Tom Stables, CEO National Express UK & Germany, said: "This huge green investment shows we are now at the tipping point of electric buses. The initial Government support has got the industry going and we are proud to be a major contributor to the green economy in the West Midlands. 
"Replacing our diesel buses with electric means we are on track to meet net zero in a way that is good for business and good for communities. These clean, green UK double decker buses are popular with customers and as a result are not only more economical to run but they will boost passenger growth and revenue by getting more people to ditch their cars for the bus; and of course they do their bit to help tackle the climate & clean air emergency."
The UK-built zero emission buses will turbocharge the national economy through investment in supply chains, skills, training and jobs. 
Transport Minister Richard Holden, said: "Reliable, clean and efficient bus services at a good price are what everyone wants to see from our bus network and I am determined to do everything possible to decarbonise our transport network and support skilled jobs in next generation bus manufacturing across the UK.
"We've already invested hundreds of millions of pounds to kick-start the rollout of zero emission buses nationwide, and it's great to see National Express introduce hundreds of electric buses here – helping UK manufacturing and driving down emissions and improving bus services for people across the West Midlands."
Investment in green and clean transport is a key part of plans to achieve the West Midlands 2041 target for a zero-carbon region. 
Andy Street, Mayor of the West Midlands, said: "Local people will now be able to benefit from these wonderful buses here in the Midlands - offering them a quieter, smoother and more comfortable journey.

"As we seek to tackle the climate emergency and maintain our #WM2041 net zero commitment, these British made buses are exactly what we need - saving energy, improving air quality and cutting fuel costs for operators. I cannot wait to see even more electric buses arriving in our region in the months and years ahead."
Additional investment will be made in infrastructure for charging and maintenance of the fleet across National Express West Midlands' network of depots. The electricity to power the electric vehicles will be 100% renewable and zero carbon. Transport for West Midlands and bus operators are making a series of investments which will see some 800 electric and zero-emission buses on the region's streets by 2026.
This includes the Coventry Electric Bus City project which is replacing all 275 buses, across all operators, on the city's streets by 2025. A further 124 electric or hydrogen powered buses, including 24 articulated vehicles for the Sprint route on the A34 and A45, will be delivered next year through the Zero-Emission Bus Regional Areas (ZEBRA) fund. This is in addition to the investment by private bus operators as they renew their fleets for the zero-emission future.