National Express West Midlands engineer wins national award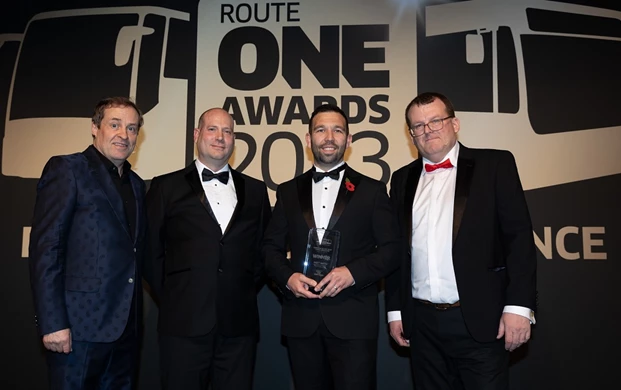 Matt Smith, Engineering Change Manager for bus operator National Express West Midlands, has been named Engineer of the Year at a national award ceremony.
37-year-old Matt, from Wombourne, was among 770 of the UK's most outstanding transport operators and people at the 2023 routeone awards ceremony, held at the Hilton Birmingham Metropole yesterday evening.
Matt has worked for National Express West Midlands for over six years, having previously been in the British Army for 15 years. He was presented with the Engineer of the Year accolade after judges recognised his personal contribution and leadership during a major transformation project that resulted in a brand-new, environmentally-sustainable bus depot becoming fully operational in December 2022.
During the project, Matt expertly guided the relocation of 500 employees and almost 200 buses from the old depot to the new depot - all under the tight timescales required to meet the project deliverables. 
Commenting on his award win, Matt said:
"Winning this award is an absolute privilege, especially in a category, sector and industry filled with such dedicated and professional engineers. 
"I must thank National Express West Midlands for their encouragement and support throughout my six years with the business and my family for their endless support."
Bernie Cassidy, Engineering Director for National Express, said:
"With Matt's focus on serving our people and customers with enthusiasm and his excellent technical, planning and briefing abilities he was a natural choice to be a core part of the team involved in our transformation project for our new Perry Barr depot. 
"He thoroughly deserves to be recognised for his dedication and leadership with our engineering teams, having managed the depot move process so meticulously that there was no negative impact on our people and our services, which continued to run smoothly for customers across Birmingham, despite major works taking place.
"He also worked hard, alongside our operational teams, to pull together an employee handbook with a number of communications to ensure that everyone knew everything that they needed to know in order to move safely and confidently from a much-loved former bus depot site, which had been in operation for 90 years."
Organised by Diversified Communications, this year marks the 17th routeone awards ceremony, recognising the country's best operators, achievements, innovations and the highest standards of excellence.
Helen Conway, Event Director at Diversified Communications, said: 
"The routeone awards once more upheld its status as the foremost platform for acknowledging excellence in the coach and bus industry.
"Yet again, the calibre of this year's awards finalists was truly exceptional. To stand out in such an innovative, creative, and dedicated industry is no small achievement, but our 2023 winners unquestionably do so.
"It was truly remarkable to witness the industry out in full force celebrating successes. We extend our heartfelt congratulations to all our winners, those highly commended, and all the finalists."