National Express West Midlands bus simulator scoops national award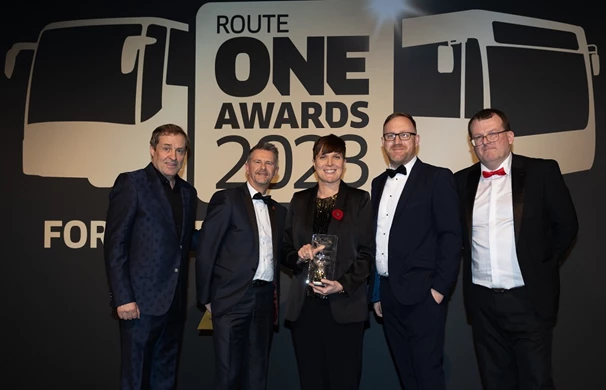 National Express West Midlands' virtual reality bus driving simulator technology has landed a Best Use of Technology award at a national award ceremony.
The region's biggest bus company was among 770 of the UK's most outstanding transport operators and people at the 2023 routeone awards ceremony, held at the Hilton Birmingham Metropole yesterday evening.
Judges recognised that the impressive simulator kit has produced some outstanding results, with a 20% reduction in preventable collisions and a 75% reduction in risk, measured through National Express West Midlands' driver profiles. It has also reduced insurance premiums and other costs associated with incidents.
National Express West Midlands is the first company in the UK to invest in four state-of-the-art Simfor DriVR simulator machines to support driver training. Three static machines were installed at depots in Coventry, Walsall and Perry Barr, and one has been fitted on a bus so that drivers across the region can benefit from the risk-free training and development. 
Using fully immersive 360-degree images the technology allows bus drivers to dive into a variety of driving scenarios including severe weather, driving in the dark and emergency braking - simulating a real-life trip out on the road, without the risk brought about by reality.
Jenny Tocknell, Head of Engineering and Operational Safety at National Express, said: 
"Our bus drivers are some of the best in the country but we're always looking at what more we can do around safety standards. So we are really proud that our DriVR simulator technology has been recognised with this prestigious routeone award.
"These machines are a worthwhile investment for the business, producing some excellent results. It's a really efficient way of working on any driving behaviour and all 1,000 drivers who have used it so far have given 100% recommendation to others.
"Using the DriVR simulator means we can provide training on high-risk manoeuvres without the risk of doing that on the training yard. This really is revolutionary and as a UK first it showcases how far ahead National Express is when it comes to safety."
Organised by Diversified Communications, this year marks the 17th routeone awards ceremony, recognising the country's best operators, achievements, innovations and the highest standards of excellence.
Helen Conway, Event Director at Diversified Communications, said: 
"The routeone awards once more upheld its status as the foremost platform for acknowledging excellence in the coach and bus industry.
"Yet again, the calibre of this year's awards finalists was truly exceptional. To stand out in such an innovative, creative, and dedicated industry is no small achievement, but our 2023 winners unquestionably do so.
"It was truly remarkable to witness the industry out in full force celebrating successes. We extend our heartfelt congratulations to all our winners, those highly commended, and all the finalists."
National Express West Midlands' new virtual reality technology has been transformational for driver recruitment too. The company is now able to train drivers for out-of-course situations and exceptional circumstances and the technology will be developed throughout its lifecycle to keep it relevant for drivers, including refreshed material on a regular basis. 
Training is being delivered 64% quicker than traditional methods and the simulator has received phenomenal feedback, with 100% of over 1,000 drivers who've experienced it so far recommending it to colleagues. 
In addition to training more of its new and existing drivers, National Express West Midlands is also using the mobile simulator to raise awareness of road safety in the community - particularly with children.