Former National Express Coventry director is honoured in bus naming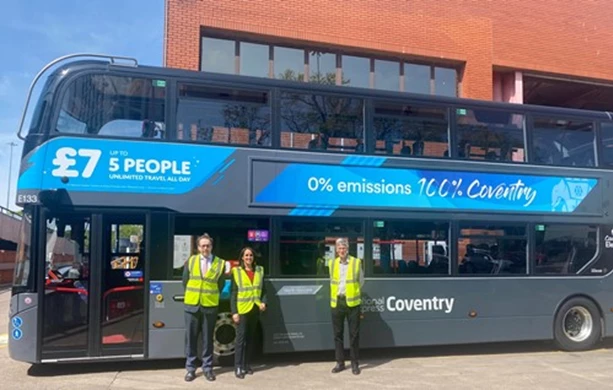 A former director of National Express Coventry has been recognised by having a new fully electric double-decker bus named in his honour. 
Well-known across the transport industry, Martin Hancock served National Express for over 30 years before retiring in 2021. He played a pivotal role in developing and implementing National Express Coventry's transition from diesel to a fully electric bus fleet as part of Coventry's journey to becoming the UK's first all-electric bus city.
In recognition of his contributions, Martin returned to the Coventry depot near Pool Meadow to see his newly named bus, his former friends and colleagues, and how the project has progressed since his retirement two years ago.
When asked how it feels to have a bus named after him, Martin said: 
"I am humbled and honoured to receive this recognition. It was a privilege to work on the All-Electric Bus City project and it's been incredibly satisfying to see the progress since I retired. 
"It's really fantastic to see how the scale of the project has increased and how certain challenges, which once seemed like mammoth tasks, have now been tackled. 
"With nearly 90 fully electric buses out on the roads already and more to come in the coming weeks, I'm delighted that National Express Coventry's fleet is already well on the way to becoming fully electric."
David Bradford, Managing Director of National Express Coventry, said:
"Martin's passion for creating a sustainable and eco-friendly transportation system in Coventry is truly admirable. His tireless efforts in advocating for the use of electric buses have reduced carbon emissions and improved air quality, making a significant impact on the local community and the environment. It is an honour to name one of our new electric buses after him and pay tribute to his invaluable contributions." 
In 2019, Martin kickstarted National Express Coventry's relationship with Zenobe Energy to achieve an end-to-end solution for fleet electrification. It was through this relationship that Martin was able to work with Zenobe to facilitate the required charging and grid infrastructure to power an electric fleet, as well as the installation of a second-life battery system, unique software to optimise charging, and full operational support for the garage.